FAQ
Which consumables and laboratory equipment will I need to run my biocrates kit successfully?
Please download the respective kit requirements document for the product you want to buy. The full mass spectrometry system compatibility list can be found here.
When will you ship the product?
You will receive confirmation on the next working day after placing your order. Generally, your package will leave our production site at Innsbruck, Austria within two working days. The transit time depends on your location and the duration of customs clearance.
As a reference, we estimate that you can expect delivery within three days within the European Union, and within five to 14 days in Asia, Americas and Middle East. But please note that your shipping time might vary, depending on individual circumstances.
Should MetIDQ be installed on the instrument computer?
No. We recommend installing MetIDQ on a separate PC.
Does the whole kit need to be prepared and run all at once?
A kit must be prepared all at once, as it is sealed under nitrogen to prevent degradation. Kits are for single use only.
How long does it take to prepare a full kit?
A kit preparation takes between four and five hours, though not all of that requires hands-on attention. This includes time spent waiting for the plate to dry or extract.
How many times can I use my column? Is the column included in the kit?
One column is included in the starter package. The column should be changed after 1500–2000 injections, depending on the biological matrix, nature and quality of the samples. You can purchase new columns in the biocrates webshop.
Will my liquid chromatography (LC) pump and autosampler systems work with the kits?
Any ultra-high-performance liquid chromatography (UHPLC) or high-performance liquid chromatography (HPLC) system will work, as long as the minimum kit specifications are met
Any autosampler model works, as long as it supports 96 well plates and cooling, and has a column oven
You'll need an experienced instrument operator to make sure that configurations and communications work between LC and mass spectrometry (MS) systems.
Why are only selected MS systems supported?
Kits were validated and tested on specific MS instruments to provide optimized methods to our users and guarantee high performance.
How long will my kits remain stable when stored?
Expiration date for p180, p400, Bile Acids and Quant HR Xpress kit item:
6 months after shipping date when stored at -20°
12 months after shipping date when stored at -80°
Expiration date for Stero 17:
3 months after shipping date when stored at -20°
3 months after shipping date when stored at -80°
Expiration date for Quant 500 kit items:
3 months after shipping date when stored at -20°
12 months after shipping date when stored at -80°
What is the runtime per kit and sample?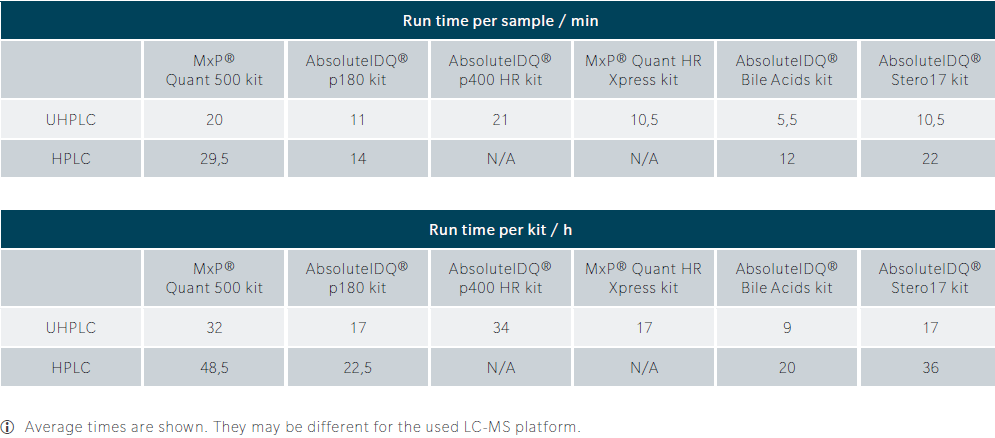 What kinds of sample matrices can be measured with the kits?
biocrates kits have been specifically validated for use with plasma and serum. Other sample matrices can be measured with each kit, where metabolite concentrations are expected within the analytical specifications Essentially, any samples with endogenous metabolites can be analyzed with the correct preparation.
For most kits, protocols for the following matrices are available:
- Tissue
- Urine
- Cell culture
- Dried blood spots (DBS)
- Cerebrospinal fluid (CSF)
What software do I need to use with biocrates kits?
You need your mass spectrometer operating software (e.g. Analyst, MassHunter, MassLynx, Xcalibur). The kit-specific software MetIDQ and Oracle will be provided with the kit.
My laboratory does not have access to a compatible LC-MS system. Are there any other ways to obtain targeted metabolomics results?
We offer sample measurement services in our laboratory in Innsbruck or through our certified partner laboratories worldwide. Please contact us for more information.
Which metabolites can I study with these respective kits and assays?
A complete summary of all metabolites you can measure with biocrates kits and service products can be found here. Metabolite lists for specific products can be found in the respective product descriptions.
What sample volumes are required?
The Stero17 kit requires 250-500 µL of plasma or serum, depending on the mass spectrometer you use (only serum has been validated for that kit). All other kits require 10 µL of plasma or serum. For other matrices or further details, please contact biocrates support.